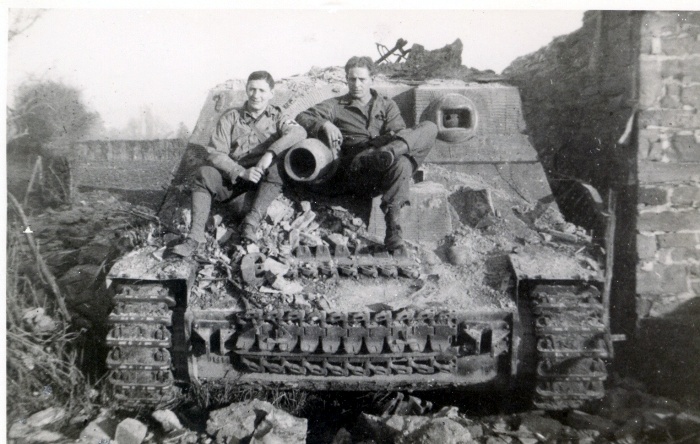 Photo of German "Sturmpanzer" and Unknown Soldiers
Webmaster's Note: It is possible the soldier on the left is Possum Coon
Photo courtesy of Chris Webber, Son of T5 George Webber, 75th Med., "B" Co.

Webmaster Note: On 3/26/2008, I received the following email from Tim Haasler a German historian

"This tank once belonged to Sturm-Panzer-Abteilung 217, the only German unit in the West
that was equipped with this special type of tank. I already have another picture of this
particular tank in my collection and it was marked Bilstain on the back. Bilstain is a small
village north of Limbourg-Dolhain between Verviers and Eupen in Eastern Belgium. I never
had any doubts that the location given was correct, as the battalion was engaged in this
area between Sept. 9th - 12th 1944, when German units tried to slow down the advance of
3rd US Arm Div in front of the Westwall. The battalion reported to have lost five
"Sturmpanzer" in September, all of them in this area and this particular "Sturmpanzer"
on Sept. 10th 1944."